BUILT NORTH AMERICAN TOUGH – Expect the best in customer service and customizations
Custom Portable Plants built to operate in the toughest conditions
The most comprehensive Portable Plants to fit your transport constraints, and still deliver your crushing, screening, and conveying needs. Vale Plants are purpose-built heavy structural chassis that last.
Vale Portable Plants are set up for processing equipment from all major manufacturers including Astec, Superior, Terex, Metso, Lippman, ISC, Sandvik, EIW. All Vale Plants are built with premium conveyor components from PPI, Luff, Superior, and Martin; drive components from Dodge and WEG.
DESIGNED + BUILT TO THE LIMIT
1
Safety + Maintenance
Complete plant maintenance considerations that accommodate guarding packages in compliance with national, provincial, and state requirements.
2
Quality
Every Vale Plant is built with North American made premium components to perform for you in your toughest conditions.
3
Transportability
Every Vale Plant is built to rapidly deploy from or mobilize to your jurisdictional transport requirements.
PORTABLE PLANTS

STYLES + CONFIGURATIONS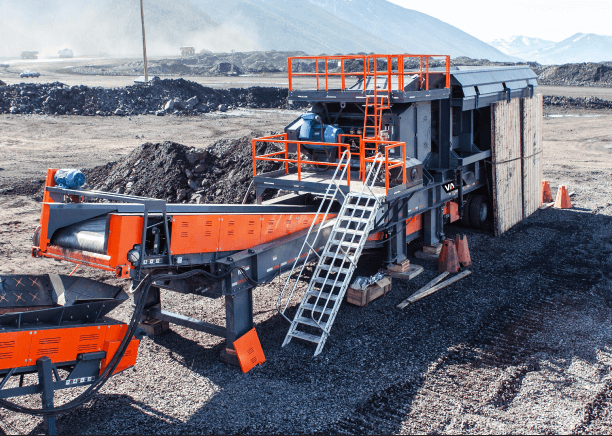 Jaw Plants
Vale Jaw Plants are designed and built for one specific purpose – "To Crush It."
From blast rock to sand and gravel – Vale Jaw Plants can be configured to specifically meet your applications. Built tough to keep up with everything you can throw at them.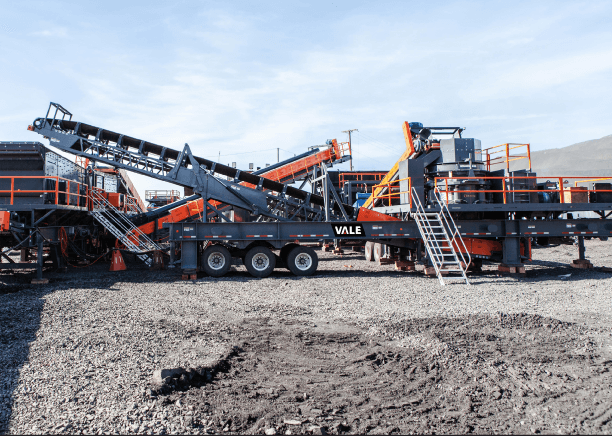 Cone Plants
Add efficiency to your spread with a Vale Cone Plant. With various onboard feed and discharge conveyor configurations, easily interface with your existing equipment.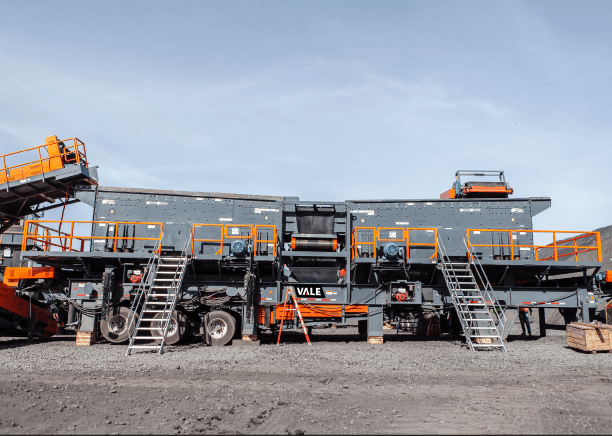 Screen Plants
Vale Screen Plants are built to endure your toughest screening application. Various cross conveyor configurations combined with blending chutes allow you to meet specifications without having to change or adjust your media. Replace the cross conveyors with a 9-way blending chute to really dial in your specifications.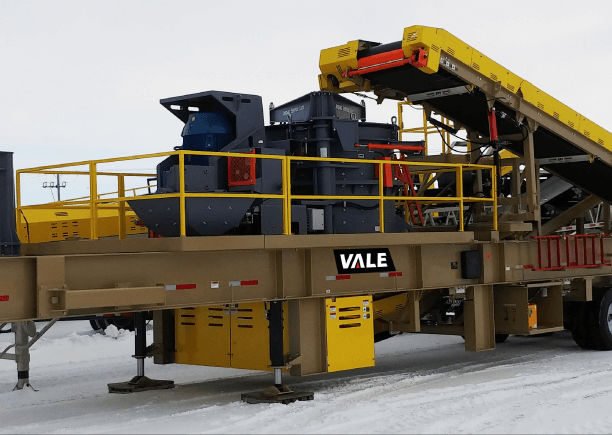 VSI Plants
Add efficiency to your specified product by interfacing a Vale VSI Plant to the final stages of your processing setup. Incorporate on or off plant feed or discharge conveyors that transfer material within your operation.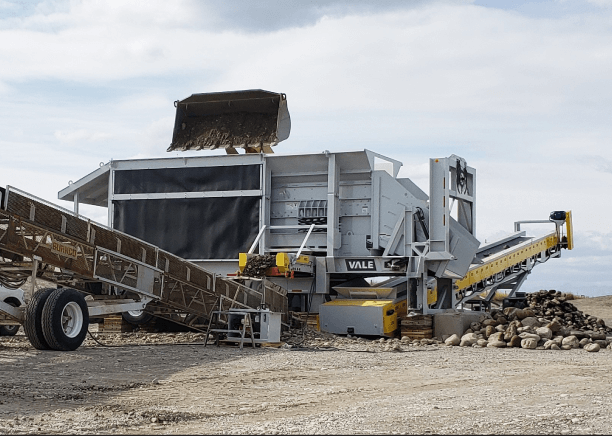 Rip Rap Plants
A Vale-built Rip Rap Plant can be used to reclaim your oversized rocks and turn them into revenue.
Having problems with large rocks making their way to your downstream equipment – add a Rip Rap Plant to help scalp them out and save your equipment from the abuse. Our Rip Rap Plant is intended to deal with 24" minus material.
Looking for a quote or have questions?
Overall
Features + Benefits
1
Heavy structural chassis purpose-built for blocked operation.
2
Designed for each unique stone, sand, and gravel application.
3
Plant layouts and transfer points to maximize run-time.
4
Rapid transition from operation to transport and back again.
5
Guarding packages in compliance with national, provincial, and state requirements.
6
Completely customizable to suit your needs.
★★★★★
"I spent some time looking at your new K400-RD Cone Plant. The attention to detail is great, even the small things are a huge improvement over others. There's more room to access the undercrusher hopper. Your ladder design is great, the treads are safer and the added handrail on the ladder feels so much more comfortable. Even where you located your toolbox makes it more look at it from the pit operators perspective and get the small things right."
Jesse
Ulland Brothers
★★★★★
"Daudet purchased a new Spread with a Primary Jaw from the Lonetrack/Vale team. We have been thrilled with the quality and performance of the plant and the Lonetrack/Vale team have attended to any issues we have had and quickly addressed our concerns satisfactorily. They always strived to make things right and they understand the importance of product support. We are happy to have partnered with the Lonetrack and Vale Team."
Steve Devost
Daudet Creek Contracting
★★★★★
"I purchased a custom Vale plant from my dealer in 2022. My dealer allowed me to work with the Vale team directly to customize my plant prior to building it. They willingly incorporated all my changes. When the plant showed up I was impressed with the quality and the attention to detail."
Ed Sweetman
Sweetman Sand & Gravel
Let's get started building your plant